Remnants reflects Kerr's interest in our precarious relationships with nature and the histories of encounter, exchange, depletion and survival that our environments tell.  Kerr's paintings are full of abundance. Birds, flowers, ribbons and all manner of plant life envelop female figures. These constructed worlds overflow with cultural references and biodiversity: native, endemic and introduced species intertwine, and elements of Chinoiserie and Ikebana are woven into botanical scenes. This layering extends into Kerr's painting processes.
Many of her artworks repurpose pre-existing paintings, overworking or manipulating them through sgraffito or a process Kerr describes as 'cut-paintings'.
These processes of re-using and re-forming signal Kerr's concerns with the loss of remnant habitats. Drawing connections between different fragments, her paintings consider the relationship of humans to the environments they live within and create.  

Above: Susanne Kerr, Tributary, 2019
Gouache, pencil on Hahnemühle paper.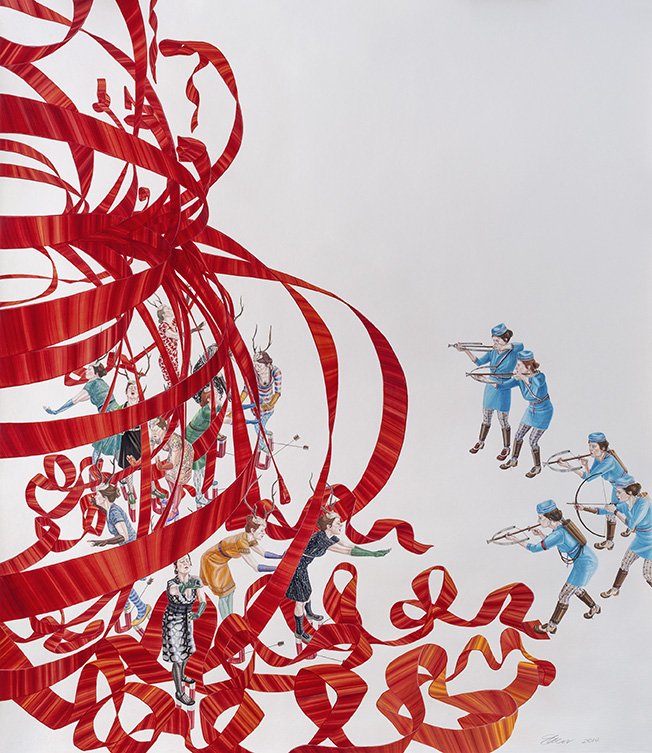 Above: Susanne Kerr, Perfume, 2014
Gouache and pencil on 300gsm Hahnemuhle watercolour paper. White frame with UV glass.